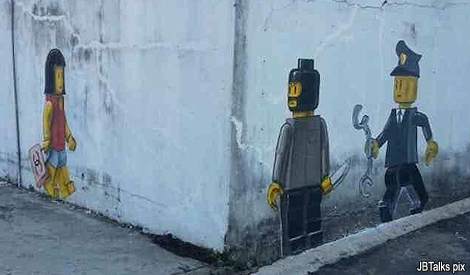 By Aidila Razak | 11:59AM Nov 13, 2013
Malaysiakini
Local artists have added a Lego policeman to the controversial Johor Bahru mural by artist Ernest Zacharevic – a move that appears to soften the message and possibly, save the mural.
With his eyes set on a Lego woman carrying a Chanel handbag, the Lego mugger appears unaware that an police officer – complete with handcuffs – is ready to nab him.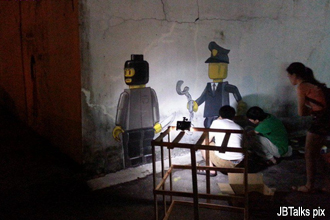 It is unclear who the local artists behind the addition are, but according to the photograh uploaded by Zacharevic on his Facebook page, duo worked on the mural last night.
"Now that's a true vandalism! Malaysia never fails to amuse me," Zacharevic quipped in his caption.
A number of those commenting on the mural's expansion were not too amused.

Some apologised to the Lithuanian-born artist for "spoiling" his work, while others were cross that Zacharevic saw the extension to his work as "vandalism".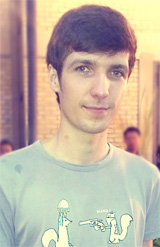 Others, however, saw it as an attempt to save the art of Zacharevic (left) so it would not be removed by the Johor Bahru City Council as planned.
For the more cynical ones, it seems that the Lego woman now has two thieves to deal with.
"I see one thief and a robber behind the thief," one Joshua Lui remarked.
Several versions of the mural have been suggested online, after the city mayor Ismail Kassim had, on Monday, said it would be removed following controversy over the mural that addresses the high crime rate in the city.
Rosmah 'replaces' Lego woman
In one version, cartoonist Zunar's rendition of the prime minister's wife, Rosmah Mansor, carrying a shopping bag, was inserted in the place of the Lego woman.
"I know someone doctored this picture using my cartoon. But no problem. Cool," Zunar tweeted this morning.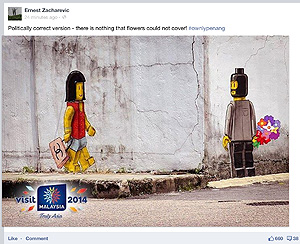 Zacharevic – internationally acclaimed for his street murals in Penang – also presented a "politically-correct" version yesterday, covering the Lego mugger's knife with a bouquet of flowers.
He earlier told Malaysiakini that the mural is his take of what the locals tell him are the two things Johor Bahru is known for – the theme park Legoland and high crime rates.
Johor has the third highest crime rate per 10,000 people behind Selangor and Kuala Lumpur, with 70 percent of its crime perpetuated in its capital city.
However, police have said they expect the crime rate to plunge to 17,500 cases this year, compared with 26,624 cases in 2008.