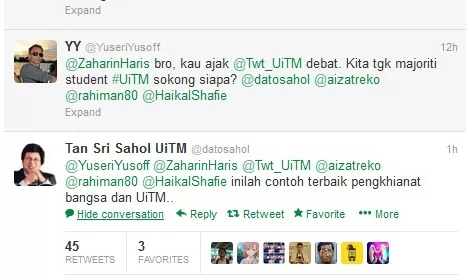 By Aidila Razak | 3:32PM Jun 14, 2013
Malaysiakini
UiTM vice-chancellor Sahol Hamid Abu Bakar has denied calling Lim Kit Siang's new political secretary Dyana Sofya Mohd Daud a "traitor to her race and to UiTM" on Twitter.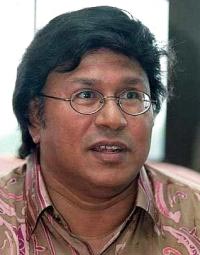 Contacted by Malaysiakini this afternoon, Sahol (left) said it was beneath him to respond to such things.
"I don't engage in that way. I am a senior professor. I don't go down to that level. Even if Malaysiakini asks me questions I don't respond," he said.
Sahol said he could not have posted the contentious tweet as he was in a lecture with the chief secretary to the government Ali Hamsa when it was posted using the @datosahol Twitter handle about 1.40pm today.

Confirming that he does have a Twitter account, Sahol, however, said it would not come as a surprise if this account had been hacked.
"Even my Facebook account has been hacked before," he said.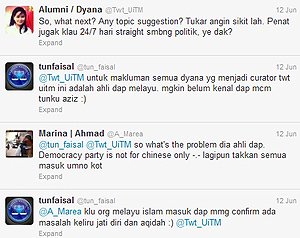 In the contentious posting, the user @datosahol responded to those referring to Dyana by saying:
"Inilah contoh terbaik pengkhianat bangsa dan UiTM." (This is the best example of a traitor to her race and to UiTM.)
This was in response to a conversation initiated by Umno blogger Yuseri Yussoff, in which he urged that a debate be held between UiTM students and Dyana, an alumnus of the university.
Tweet not deleted as at 3.10pm
Dyana is this week's curator for the unofficial UiTM weekly curatorship account @twt_uitm, where UiTM alumni, staff and students take turns to tweet to the account's followers on topics they deem relevant to the community.
As at 3.10pm today, the contentious tweet had not been deleted from the @datosahol timeline. However, another similar tweet made just before it has disappeared.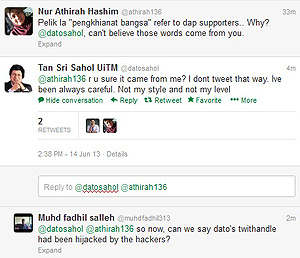 Replying to another user, who questioned why he would call Dyana a "traitor" for being a DAP supporter, Sahol said:
"Are you sure it came from me? I don't tweet that way. I've been always careful. Not my style and not my level."
Dyana, who was appointed as political secretary to the Gelang Patah MP after the May 5 general election, has been receiving much flak from Twitter users, especially whenever she comes out in defence of the DAP.
She has also had her faith in Islam (akidah) questioned by Umno Youth exco member and its Unit Media Baru chief Tun Faisal Ismail Aziz.
"Malay Muslims who join the DAP are confirmed to have identity and akidah issues," Tun Faisal said.