Malaysiakini | 11:54PM Apr 2, 2013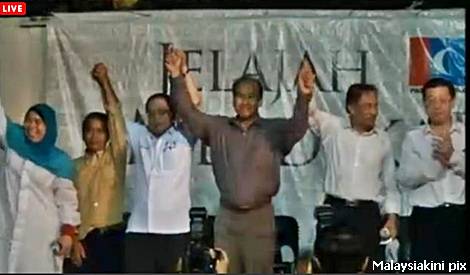 The flurry of heavyweights from the Pakatan Rakyat camp contesting parliamentary seats in Johor continued as former army chief Gen (Rtd) Md Hashim Hussein was announced as PKR's candidate for the Johor Baru parliamentary seat tonight.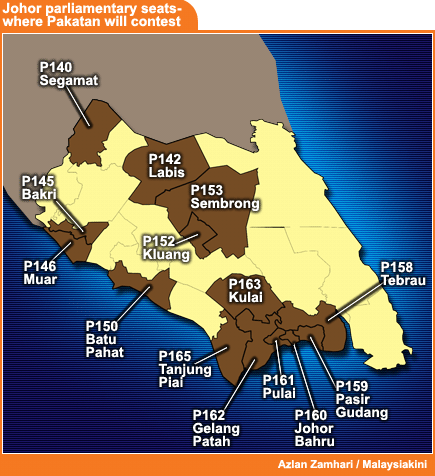 Opposition Leader Anwar Ibrahim also announced Steven Choong as candidate for Tebrau, Nor Hizwan Ahmad for Muar and Idris Jauzi for Batu Pahat.
These are also parliamentary seats.
Choong is the PKR deputy secretary-general and is strongly linked with Johor PKR chief Chua Jui Meng.
Nor Hizwan is Muar-born, had worked in MAS, and was active in Ampang PKR before being appointed as Muar PKR parliamentary coordinator.
Idris Jauzi is NGO Wadah Pencerdasan Umat Malaysia (Wadah) vice-president and former leader of Angkatan Belia Islam Malaysia (Abim).
His links with Anwar goes back to the days when Anwar was in the government and Idris was Biro Tata Negara deputy director-general.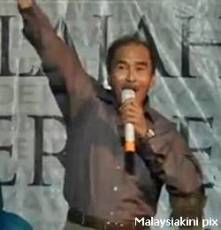 Anwar made the announcements in front of a strong crowd of a few thousand at the Ceramah Perdana Merdeka Rakyat in Kg Datuk Sulaiman Menteri, Johor Baru.
"We have a four-star general as your candidate for Johor Baru," he proudly pointed out.
In fact Hashim's (right) candidature was supposed to be announced over a week ago.
But he fell victim to a bout of food poisoning on the night of March 23, leading to Anwar abstaining from announcing him as the candidate.
Hashim received his degree in War Studies from King's College in London and had once led the elite 10 Paratrooper Brigade.
He rose steadily through the ranks and eventually served as army chief between January 1999 to December 2002.
Upon his retirement, he was appointed as the Malaysian high commissioner to Pakistan between 2003 and 2006.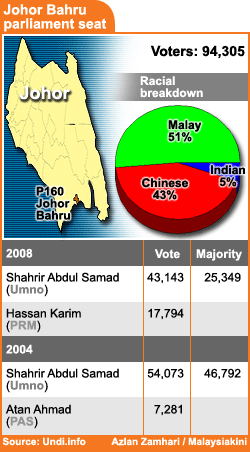 He only joined PKR recently, on March 6.
Anwar's decision to field Hashim follows two DAP bigwigs being announced as candidates in Johor.
DAP veteran Lim Kit Siang has been confirmed to do battle in Gelang Patah, while Bukit Bendera MP Liew Chin Tong will be shifting his base to the Kluang parliamentary seat.
These are PKR's first major announcement of candidates in Johor with more to come as the opposition attempts to ambitiously wrest away Johor, long known as Umno's bastion, away from the ruling coalition in forthcoming election.
The Johor Baru seat is currently held by Umno's Shahrir Samad, who defeated Parti Rakyat Malaysia's (PRM) Hassan Karim by a majority of 25,349 votes.