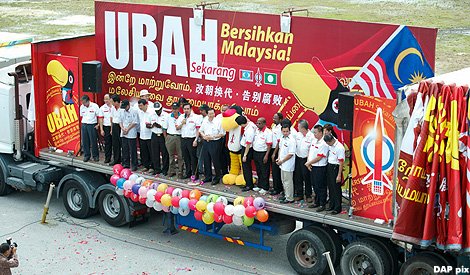 By Nigel Aw | 11:02AM Oct 29, 2012
Malaysiakini
DAP has launched its very own war truck ahead of what pundits expect to be the most competitive general election ever, with fierce campaigning everywhere.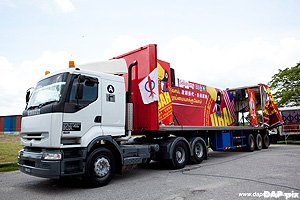 The red trailer launched in Seremban yesterday by party secretary-general Lim Guan Eng is wrapped with a giant image of DAP's hornbill mascot Ubah, with the words 'Ubah! Bersihkan Malaysia'.
"Basically, the truck will be a mobile ceramah stage that is equipped with a big back drop and some lighting," Negeri Sembilan DAP chairperson Anthony Loke said when contacted.

Loke who is also DAP Youth chief, said the truck, dubbed "Dream Machine" is also aimed at grabbing attention whenever it hits the roads, particularly during the election campaigning period.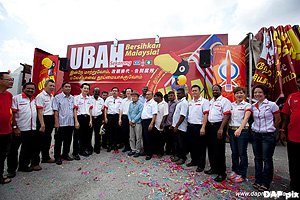 Asked about the significance of the truck's name, Loke replied: "The name was coined by our secretary-general. It means that the truck brings us hope and will help to realise the dreams of Malaysians for a change of government."
The move comes almost two months after PKR launched its very own campaign trailer and bus.
PKR's campaign bus, plastered with the face of opposition leader Anwar Ibrahim, has been the target of political violence since its launch.
'Mobile shop and office'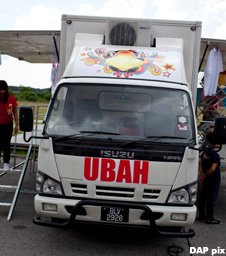 However, for DAP, the Dream Machine will not be lonely as it will be accompanied by two smaller trucks.
"One of the small trucks will be used to sell merchandises, such as Ubah toys. It's mobile so it is useful and we don't need to set up a stall to display our merchandise.
"The other is a multi-purpose truck, that will serve as a mobile office and can also be used for purposes such as a press conference," said Loke.
The trucks, he said, was loaned and refurbished by DAP supporters and will serve the party until the next general election.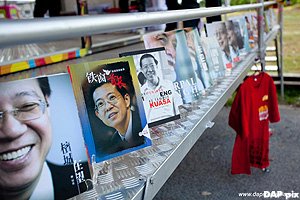 "We do not own the trucks, we did not invest anything. There is a group of supporters loaned the vehicles to us and modified them according to our needs," said Loke, the Rasah MP and Lobak state assemblyperson.
The trucks are expected to make their debut at a Pakatan Rakyat rally in Seremban Jaya on Nov 3.