By Aidila Razak | May 9, 2012
Malaysiakini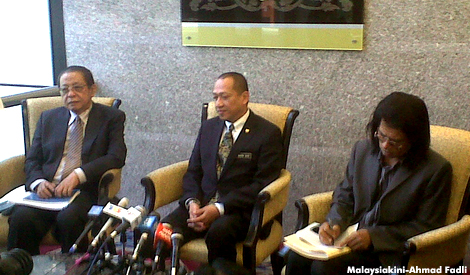 In a rare move, the Election Offences Amendment Bill will be withdrawn from the Dewan Negara tomorrow following "a lot of resistance".
According to Minister in the Prime Minister's Department Nazri Abdul Aziz, the decision to abort the Bill was arrived at today after a 10-minute meeting between the government, the opposition and the Election Commission (EC).
"I will table the motion in the Dewan Negara tomorrow," he told reporters at the Parliament lobby today.
The means that the Election Offences Act remains at status quo for the next general election.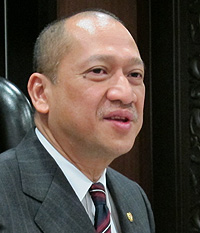 Nazri (left) said the decision was first made at cabinet level as the Senate are seeking two more amendments to the Bill.
The Dewan Rakyat passed the Bill last month but with changes, including holding back the amendment which disallowed political parties from assisting voters to check their names and voting streams.
Another amendment rejected by the Dewan Rakyat was one which allowed the Election Commission to dictate when and how long a candidate's polling and counting agents can stay in the polling stations.
Amendments passed include the proposal to remove the candidate's agents from the Election Commission registration booth (barong) and to remove requirement for all printed materials to have printers and publishers' details.
"Amendments made to the Bill by the Senate would have to go back to the lower house and withdrawing is a neater, better way," he said.
'More public consultation next time'
Nazri added that the EC had agreed to withdraw the Bill in entirety as more amendments made would render it pointless.
He said that the government had only acted as a "postman" in tabling the Bill to Parliament, and did not know the contents of the Bill which was proposed by the EC.
Nazri, who said that the Bill saw resistance from both government and opposition lawmakers, added that the government had tabled the Bill in toto as it had respected the EC's independence.
The minister said that the last time something like this happened was three years ago, when a Bill was sent back to the Dewan Rakyat.
"But the Dewan Rakyat did not take it up within three months and it lapsed," he said.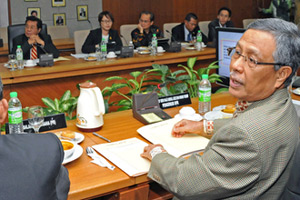 DAP parliamentary leader Lim Kit Siang, who was also at the press conference, said the EC should engage in consultation with all stakeholders before proposing a Bill to avoid this happening in the future.
In an immediate response, the EC chairperson Abdul Aziz Mohd Yusof (left) denied the withdrawal was a slap in the face for the commission, who mooted the amendments.
"Not really. We had our meeting chaired by Speaker of the Dewan Negara and attended by Nazri and Lim before the press conference.
"We consulted each other and finally all agreed to abort it," he told Malaysiakini in a text-message.