By Koh Jun Lin | May 2, 2012
Malaysiakini
The police brutally beat up Bersih 3.0 rally protesters last Saturday after hearing rumours that one of their colleagues had been killed by the rally participants.
"The policeman beat me endlessly and said, 'Oh, so you are the gangsters… because of you one of my friends has died,'" rally participant and police abuse victim Mohd Syafiq Shamsudin said in an interview at the Malaysiakini office on Monday.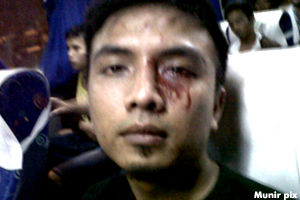 Syafiq (left) said he and a friend, Munir Maktar, were among many yellow-clad protesters crowding the Bandaraya LRT station at 7pm last Saturday, waiting to go home.
Although they had purchased their tickets and were queueing to enter the platform, police suddenly came and pulled them away.
"Some managed to enter the platform and into the LRT coaches. Some couldn't get into the station and they were all taken away. The police did not dare to enter the LRT station. Those sitting outside were blocked and pulled away, while those taking pictures had their cameras confiscated," he said.

Dragged to Dataran and beaten all along the way
Syafiq said he was dragged to a nearby pedestrian bridge where he was beaten, dragged down the stairs, pushed down and then dragged again, beaten and stomped as he lay on the road. He was then dragged to Dataran Merdeka.
"Along the way to Dataran Merdeka, the policeman would drag me to each group of police present, where they would beat me. Then they would drag me to another group and they would beat me up again. They would scream and curse along the way, and also say, 'Food! Food! Food!'
"It was like I was nothing. They said, 'Food is served! Come! Come!'" Syafiq recalled.
"From 6pm onwards, it was as if the police had ran amok. Anyone by the roadside and anyone taking pictures would be arrested… they didn't care anymore," he said.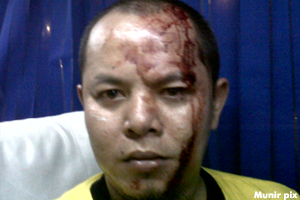 His companion, Munir (left), said he tried to photograph the policemen beating the protesters, but was spotted. He quickly put away his camera, but that did not save him from being beaten by the policemen.
He said he even showed his LRT ticket and told the policemen that he and Syafiq were leaving, but their pleas were ignored.
He said he was dragged away with Syafiq and beaten up. The memory cards of both his camera and mobile phone were seized.
Names tags and serial numbers missing
"There was no respite for my face and body from being beaten throughout the walk," said Munir, who also noted that the police officers were in uniform, but did not display their name tags and serial numbers.
"The police should not have done that. They have a better understanding of the law and the procedures for arresting people, but instead they acted emotionally… The reason they beat me was that they heard rumours that a friend of theirs died," Syafiq added.
"For a police officer, that is not a valid reason to beat anyone. Only gangsters attack people as they please," he said.
Police in the aftermath of the rally announced that nobody had died during the protest.
Syafiq was later prescribed painkillers for the bruises he suffered all over his body, and eye medication for his bleeding eye, where the lower left eyelid was partially torn.
Munir too complained of pain throughout his body as a result of his beatings. He said his head above the left eye had been bleeding as a result of being elbowed, and still felt numb during the interview.
The two also denied resisting arrest, and have lodged police reports on their arrest and beatings.