By Aidila Razak | 11:34AM May 11, 2012
Malaysiakini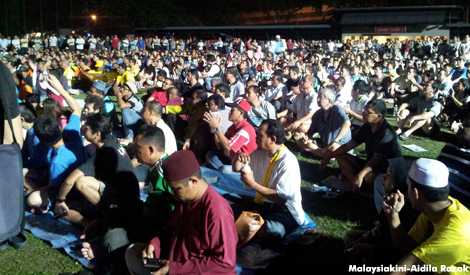 It was a sea of raised hands yesterday when DAP parliamentary leader Lim Kit Siang asked an audience of about 2,000 people at the Subang Jaya 3C complex "who opposed the appointment of Hanif Omar" as chairperson of the investigative panel on police brutality during Bersih 3.0.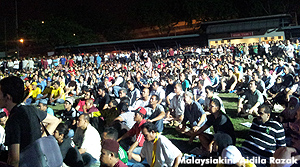 Asked why, some of those present at the second stop of PKR's post-Bersih nationwide tour Merdeka Rakyat, yelled out "because we cannot trust him".
"Why can't we trust him?… After what he has said he should in fact be the star witness of the inquiry and not the chairperson," the Ipoh Timor MP said.
Most of the audience had also raised their hands when asked if they had participated in the April 28 Bersih 3.0 rally.

According to Lim, the former police chief should not be on the panel because he had made prejudicial statements against the rally, including agreeing with suggestions that it was a coup attempt.
"I have nothing personal against Hanif. I don't want to cast aspersions against his integrity but he should spare himself.
"Never in Malaysian history has an appointment of a panel chairperson been automatically rejected (by the masses)," he said.
The communist joke
Like the coup d'etat statement, a mere mention by PAS' Shah Alam MP Khalid Samad that Hanif said that he feared communist insurgents were behind Bersih 3.0 had the audience in giggles.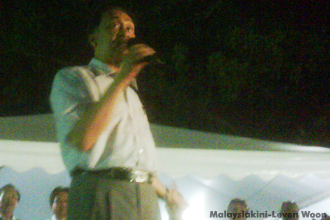 Winning more laughter was PKR de facto leader Anwar Ibrahim (left), who related how two Malaysians on board his flight back from Bahrain yesterday asked him about Hanif's communist remark.
"One of them was 29, the other 32. This communist story is from the 1950s, 1960s. Hanif retired (as inspector-general of police) a long time ago.
"He forgot that he fought communists in the 1960s. Hey, Hanif, that fight is over. The communists are now your friends. Communist Party (of China) representatives were present during the Umno assembly," he said.
He added that Hanif should not accept the post of panel chairperson as "he knows he is not independent" after making such a statement against Bersih 3.0.
"We also ask for the other panel members to step down voluntarily to so the panel is not subject to mockery," he said.
Assault at mosque steps
Besides speeches on Bersih 3.0 and electoral reform, the audience was also shown what appeared to be eyewitness videos of the April 28 rally.
They included videos depicting police brutality, including one which showed yellow-shirted men being dragged out of a mosque and assaulted at the mosque steps during the azan.
The video, which appeared to be shot from the second floor of Masjid India, near Jalan Tuanku Abdul Rahman, also recorded people yelling out "Ingat Tuhan!" (Remember God).