By Yap Jia Hee and Radzi Razak | 9:15AM Jul 4, 2015
Malaysiakini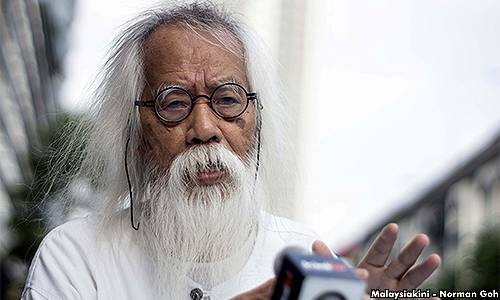 DAP latest star recruit, national laureate A Samad Said is of the opinion that his former co-chair in electoral watchdog Bersih 2.0 Ambiga Sreenevasan and student leader Adam Adli Abdul Halim could do more in politics after having served for many years in the civil society.
"I welcome her (Ambiga). She is very good. She is very knowledgeable, so I hope she joins DAP.
"I hope Adam too will join DAP as will most of the student leaders because I think they can contribute more […] to the young generation," he told Malaysiakini in an interview last Saturday.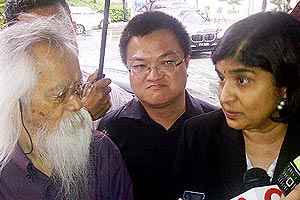 Samad and Ambiga, the former Bar Council president were the joint chair of Bersih 2.0 and the duo launched two of the biggest rallies for parliamentary reform the country has ever seen.
Both of them stepped down in November last year from heading the umbrella body for the 90-member group, which is now firmly stamped on the Malaysian political map.
Samad, or Pak Samad as he is affectionately known, said Ambiga had told him she saluted him for taking the plunge into politics.
"Actually, Ambiga is also being courted by DAP. But she can choose any party she wants because she is a legend in her own right.
"As an individual, I think she can contribute more effectively if she is in politics…," he said.
Samad added there is no problem for activists to make the jump from an NGO to a political party as they could use their skills and knowledge to further their righteous cause.
'I don't need anything anymore'
The 80-year-old writer also dismissed allegations that NGOs were merely a platform for those with political ambitions, pointing out that more and more people were joining NGOs purely to fight for the betterment of the society.
"Everyone has their own perceptions. To me, there is nothing wrong for someone who has been active within an NGO to join a political body. I don't feel at all troubled by people's perceptions.
"For NGO activists, there will always be people who will step up to replace them if they leave their respective groups and join DAP.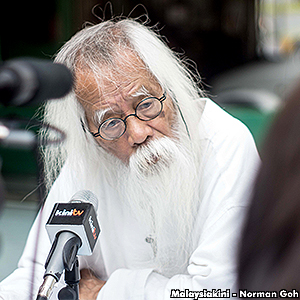 On a related matter, Samad explained that he chose DAP because the party to him is the "most Malaysian" party compared to other opposition parties.
He revealed that both PKR and PAS did not represent his idea of being truly "Malaysian".
"I've been involved for a long time with both PAS and PKR. Most of them know me. In the last general election, I was campaigning for them even when I was not a member.
"It is not because I think the two parties do not suit me. I just think that they do not represent the whole Malaysia.
"DAP represents Malaysia, so I think this is a good tool for me. I did not ask for anything, I just want to contribute. At my age, I don't need anything anymore."