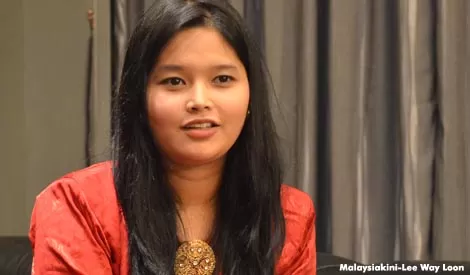 Ahmad Fadli KC & Lee Way Loon | 12:16PM Sep 1, 2013
Malaysiakini
INTERVIEW For many years, the Aidilfitri festive period saw Dyana Sofya Mohd Daud visiting open house functions as a custom. But this year, things are a little different.
Now her visits have an official air to it, as she is a representative of Gelang Patah MP Lim Kit Siang.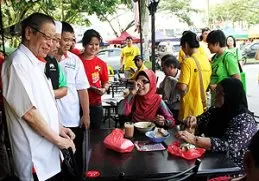 Dyana, a UiTM law graduate who hails from Ipoh, is serving full time as Lim's political secretary since the general election in May.
She first came to prominence in early 2012, when Lim held a press conference to announce her entry into DAP.

Interestingly, one of the her reasons for joining DAP was her experience in UiTM, the sole university in the country which is exclusive to bumiputera.
"While I managed to get into UiTM, some of my (non-bumiputera) friends who had similar results were not accepted into public universities. They couldn't get any scholarship.
"So I think that's not fair. What would happen to my friends? Do they have to spend a lot of money to get into the private university?" she said during an interview last month.
UiTM for non-Malays
Looking back at her experience in UiTM, Dyana opined that a public higher education similar to UiTM should be established for non-Malays.
She was disappointed that some of her non-Malay friends, regardless of whether they had good results, were denied the opportunity to further their studies at public higher education institutes.
"The non-Malays should have equal opportunity as Malays. A higher education institute that accepts the enrollment of non-Malays but at the same time only charges the same amount as UiTM is necessary."
She believes that the time is ripe for the education system in Malaysia to go beyond racial lines and instead be based on needs.
Even though she is now active in DAP, Dyana was born into a family that was very active in Umno.
"My mother is still a Umno member until today. She is also the first division secretary for the party women's wing in Malaysia. In fact, my uncles are also involved in Umno politics.
"They would discuss politics when the family meets. I heard their stories and grew up with them," she further said.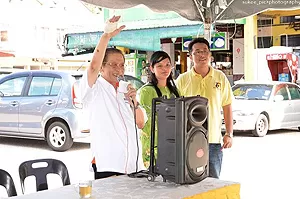 Dyana said that her mother was understanding and blessed her choice to become a DAP member instead.
"She said that if we believe in something, we should go ahead and do it, that sometimes it is good for us to swim against the tide in order to make a statement," said the young lawyer who has her own law firm in Cyberjaya.
Conversation with Zairil
But what strengthened her resolve was a conversation with Zairil Khir Johari, the political secretary to Penang Chief Minister Lim Guan Eng and now the Bukit Bendera MP.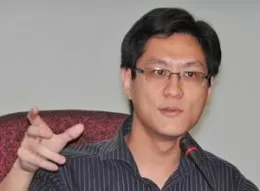 "It was a multiracial meet up with about ten people that included Zairil (left) and (The Rocket's editor-in-chief) Wan Hamidi (Hamid). I asked him why should I join DAP?
"He told me what the party fighting for. And I can see that he is very comfortable with DAP," she recalled.
After joining DAP for more than a year, Dyana said she was indeed comfortable in the party although most of its members are Chinese.
"I felt I was welcome everywhere. When I want to perform my prayers, I can just go to the surau. It's like me going back to the primary school days.
"I just believe in what Zairil said. Sometimes they speak a language that I don't understand, but I just tried to understand it," she said, with smile.
Like Dyana, Zairil too was born into a family that had active Umno members.
'Traitor' label
Despite facing some harsh criticisms from her members of her own race, the young girl's spirit always remains high.
"I don't feel hurt by the 'penghianat' (traitor) label," she said, adding that she always sees herself as a Malaysian.
Dyana is also faced by challenge of handling the stigma that some Malays in Johor still have about DAP, which has been portrayed time and again as being an anti-Malay party by the ruling government.
She and two colleagues from the Gelang Patah parliamentary office were once chased away from a village in June even though they were there to gather details about the problems faced by the residents there, on behalf of Lim.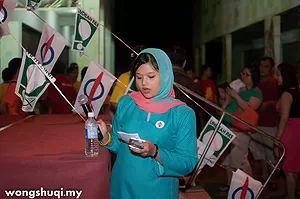 "After winning (the constituency), we received a call from some residents at the village who wanted to complain about the status of the land where they were residing.
"But when we reached there the village chief came to meet us and pulled my hand and asked me to go back. He pointed right at my face and said, 'we have our menteri besar and we don't need you'," she said.
However, Dyana said she will keep going to these Malay villages "because they need me."
"I will feel guilty of I don't go and meet them. Their willingness to call us there in the first place is already good progress. Little by little, they will surely come forward to hold discussions with us," she added.
__
The interview was conducted by Lee Way Loon, Ahmad Fadli KC and Mohd Azudin Shah Mohd Hidzir.