Letter by Ganesh
My wife recently delivered our baby in Pantai Hospital Bangsar, Kuala Lumpur. Being a premium hospital situated ideally to cater to the Damansara Heights and Bangsar affluent residents, one would expect minimum standards of service and hygiene to be practiced.
I was appalled to find that the hospital had blood stained blankets and was infested with cockroaches.
Our nightmare began on the first day we checked in at about 1 pm. That evening, the hospital forgot to serve the tea time snack and also the dinner meal. When asked why, they could not give a proper explanation and had just said, "sudah lupa".
My room was a brand new room that was just set up for a new patient. Initially, there were no blankets. My wife who was admitted, was freezing in the room for several hours. I had to ask several times for blankets to be given. However, when the blankets did come, the blankets were heavily stained with dried blood and urine. Refer to the enclosed picture. The staff nurse confirmed it was dried blood. I was shocked beyond believe. I immediately asked the nurses for an explanation but they were unable to give me a reasonable explanation. I demanded for the blankets to be changed.

Whilst waiting for the blankets to be changed, which was taking over an hour, my wife and I were freezing in the cold again. I was was worried of the cold, as only a few hours later my wife would have to go for her caesarian operation. I went out to the nurses counter only to find that the nurses were going through countless of blankets, individually, only to find, all of them stained also. I was even more shocked that they could not find a clean blanket. Mind you, the room was a Deluxe Single costing RM388 and one would expect some sort of quality of service and hygiene standards practised.
The next day, after my wife's caesarian operation, with her wound still raw and painful, she had another shocking experience. She saw a cockroach walking on her maternity pads kept in the ensuite bathroom. Maternity pads are sanitary pads for women who have just delivered. Refer to the picture taken. She called for me and I killed it and flushed it down the toilet.
Several hours later, with her wound still raw and bleeding, she nearly fell down as another cockroach was running about on the bathroom ground and she was trying to avoid it. In our stay in the room for 3 days, we encountered not just one or two, but countless of cockroaches, some were even walking on the toiletries like toothbrush and comb.
Waking around the corridors of the maternity ward, I spotted several cockroaches outside the nursery. On one occasion, I informed the staff nurse, she just stepped on the cockroach and killed it, as if it was normal practice. God only knows, how many cockroaches had crawled into the nursery where my newborn baby was kept. This traumatised me.
3 years ago, my wife was admitted to the same hospital for a caesarian surgery. It was then infested with cockroaches too, to the extent that even one day, when her hot meal was served with a tudung, when she opened the cover (tudung), a big cockroach ran out of the the food. I did complain 3 years ago but they told me that the hospital was infested with cockroaches because of the renovation/construction being done to an old wing. Though this was no excuse as a hospital has to be extremely hygienic, I accepted their explanation and apology then, hoping that they would have got their act together after 3 years.
After our experience, my wife and I thought it would be best to get discharge earlier than normal. For the 3 days I stayed with a normal caesarian delivery, I was charged nearly RM11,000. With such a hefty fee, one would expect some levels of hygiene and service rendered. What is the Malaysian Medical Association and Ministry of Health doing? They seem to be overly concerned with policies governing doctors. They should come out with policies protecting the consumer patient. In this case, cockroaches can actually pass infection and be very detrimental to a patient.
If such a situation had existed overseas, the hospital would be shut down immediately. We are definitely a third would country for tolerating such intolerable hygiene standards in what are supposed to be premium hospitals.
Am I to pay a premium for blood and urine stained blankets and cockroaches?
Kind Regards
Ganesh
Blood Stained Blankets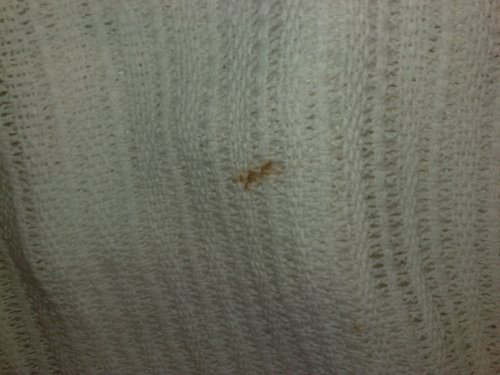 Cockroach in toilet floor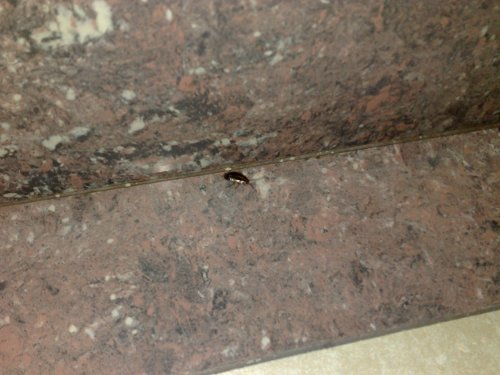 Cockroach on toilet wall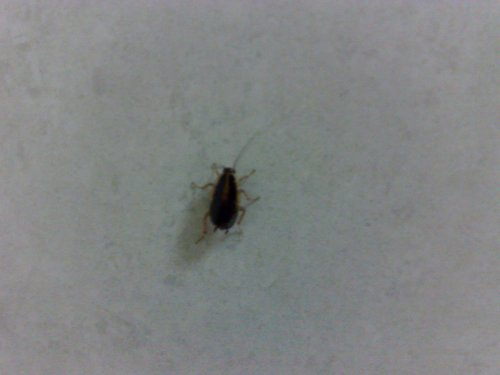 Cockroach outside Nursery