Archive for category Ong Kian Ming
Malaysiakini
12:39PM Mar 22, 2013
DAP election strategist Ong Kian Ming has urged the Election Commission (EC) to investigate the existence of old red and green identity card numbers in the electoral roll.
While acknowledging that the holders of these old identity card (IC) numbers may have since gained citizenship, Ong pointed out the fact that they were found in constituencies with large numbers of IC numbers deemed "problematic" by the National Registration Department (NRD) was a cause for concern.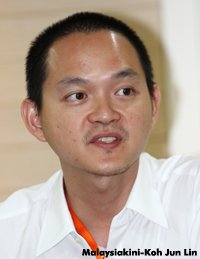 "When we investigated the latest electoral roll of the fourth quarter of 2012, we found that there were 7,029 voters with old identity card numbers belonging to the red IC range and 446 voters with old IC numbers belonging to the green IC range.
"This means that there could potentially be 7,475 people who are non-Malaysian residents and not eligible to register to vote but who have been put on the electoral roll," Ong (left) said.
His checked the electoral roll for old red identity card numbers from H6000000 to H6040000 and old green identity card numbers H8000000 to H8040000, which were provided by Sabah and Sarawak NRD IC division chief Ruslan Alias during the royal commission of inquiry on illegal immigrants in Sabah. Read the rest of this entry »